Magnetic Films Group
Staff:
Associate Professor Dr TATCHEV Dragomir
Associate Professor Dr GEORGIEVA Jenia
Associate Professor Dr VALOVA Eugenia
Emeritus Professor DSc ARMYANOV Stephan
Research Topics:
Electroless deposition of metal and composite alloy films on polymer and metallic supports.
Nano-materials with higher photocatalytic, electrocatalytic and photoelectrocatalytic activity for advanced oxidation processes: fabrication and characterization.
Small Angle X-ray and Neutron Scattering for composition and structure inhomogeneity characterization in nano-scale materials. In situ granolumetry in glass-forming systems.
X-ray computer micro-tomography of materials. Density and structure distribution
Mechanism of electroless deposition of ternary alloys Ni-Me-P & Co-Me-P (Me = Cu, Zn, Fe, W, Re, Ce), distribution of Me, thermal stability, and other properties.
Relationship between plating parameters, structure and magnetic properties of electro- & electroless deposited films.
Academic Collaboration:
International: Vrije Universiteit Brussel, Dienst Metallurgie, Elektrochemie en Materialenkennis, Brussel, Belgium; Université Libre de Bruxelles, Science des Matériaux et Electrochimie, Bruxelles, Belgium; Physical Chemistry Lab, Chemistry Department, Aristotle University of Thessaloniki, Greece; Helmholtz Zentrum Berlin für Materialien und Energie, Germany;
Bulgarian: Institute of Catalysis, Bulgarian Academy of Sciences, Sofia; Institute of General and Inorganic Chemistry, Bulgarian Academy of Sciences, Sofia; Institute of Electronics, Bulgarian Academy of Sciences; Department of General & Inorganic Chemistry University of Sofia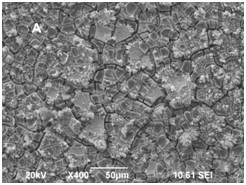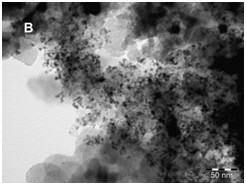 (A) SEM of Pt/TiО2/WO3 catalyst, obtained by galvanic replacement of photodeposited Cu onto electrosynthesized TiО2/WO3 layers with Pt;

(B) TEМ image of Pt(Ni)/TiO2_C nano-catalyst, obtained by galvanic replacement of electroless plated Ni onto TiO2 and carbon nanoparticles with Pt. Pt loading is decreased.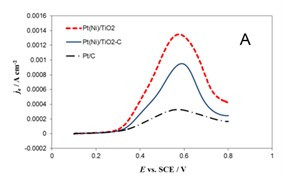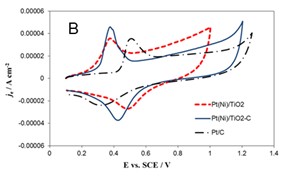 Electrocatalytic oxidation of methanol (A) and CO (B) on electrodes with Pt(Ni)TiO2_C catalyst. The higher activity of bi-metallic composite catalysts is due to synergy of Pt and TiO2.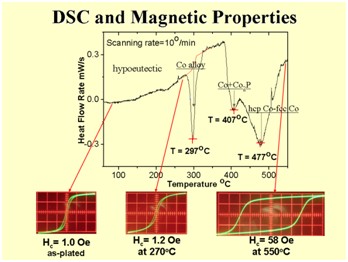 DSC and magnetic behavior of electroless Co-W-P alloy.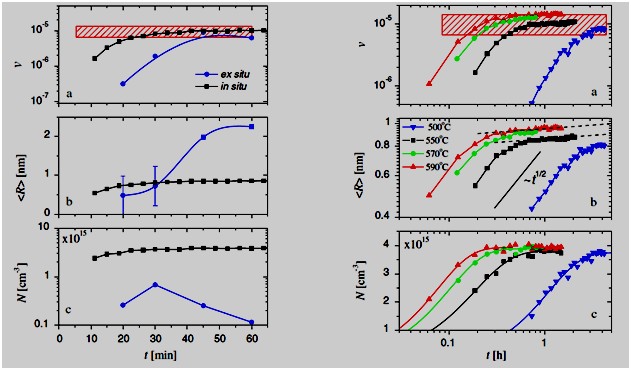 SAXS study of nucleation and growth of Au particles in soda-lime glass. Ex situ and in situ annealing under x-ray irradiation: volume fraction (a), mean particle radius (b) and particle number density (c) as a function of the ex situ and in situ annealing time at 550oC (left) and in situ (right) annealing time at various temperatures. The lines are a guide to the eyes only. D. Tatchev, A. Hoell, M. Eichelbaum, K. Rademann, Physical Review Letters 106, 085702 (2011).